As an alternative to a normal car wash, We also offer a "Waterless Car Wash" which is a product that is designed to clean, polish and protect your cars paint. Combine this with a vacuum and window clean and you will be amazed at the results that can be achieved using this new technology. Our waterless car wash system is ideal for personal and commercial customers. If you live in a condo/loft and cannot use water or if you operate a car showroom and have no desire to move a car or wet the floor .... we have the solution. s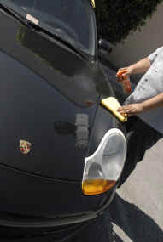 What is a drywash?
Its a new waterless, environmentally friendly way of washing the exterior of your vehicle using absolutely no water!
Will Dry washing scratch my vehicle ?

ABSOLUTELY NOT. Our dry wash and wax product contains high-grade carnauba wax. It is specially formulated to encapsulate any dirt and grime particles to prevent scratching of paint or finish when you wipe the vehicle clean.
completely non-toxic, biodegradable, safe to the e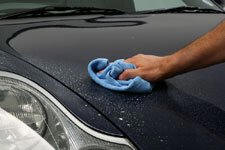 nvironment- all-around product.

Waterless Wash

Moderate Bug & Tar Removal

Clean Tires, Rims & Wheel Wells, Wiper Blades

Dress Tires & Trim

Vacuum Interior & Trunk

Wipe Door jambs

Clean Windows, Mirrors & ashtray

( Two Car Minimum )
---
| | | |
| --- | --- | --- |
| | Price | |
| Compact Cars & Pickups | $30 | |
| Large Cars & Pickups | $35 | |
| Small SUV's, Minivans | $40 | |
| Large Utility Vehicles | $45 | |
| Suburban, Expedition | $50 | |
| F/S Vans, Excursion, Etc. | $55 | |
There has never been a more convenient way to get top-quality professional car services. We even offer hassle-free seasonal scheduling with complementary appointment reminders, so you can arrange for an entire year's worth of washes, waxes and details at once.
*PRICES MAY VERY DEPENDING ON CONDITION OF VEHICLE
Please note: Every effort is made to ensure accuracy with our prices and services however prices and service areas are subject to change without notice and may not be immediately reflected on the website. Please contact our office for the most accurate and up-to-date information.
Please click on prices to find a complete descriptions on the various Detail Services offered by Keep it Klean Mobile Detailing
contact us by e-mail or call us direct at 310-412-CARS to arrange an appointment to come to your home or office
Phone Hours Monday through Sunday 7:30 AM to 6:00PM
Service Hours Monday though Saturday 7:30 AM to 5:00PM
We use

Advanced Professional Car Care products

Serving the greater |Los Angeles| area,| Beverly Hills |Culver City| |Santa Monica|| Marina Del Rey| , |Inglewood| |South Bay| Pacific Palisades| |Malibu| | Sherman Oaks ,|Studio City| Palos Verdes| Rancho Palos Verdes | Ladera Heights |Rolling hills Estates |Downtown Los Angeles| Torrance |Redondo Beach| |Pasadena|| Glendale| , |Inglewood| and |Venice| Southern California


5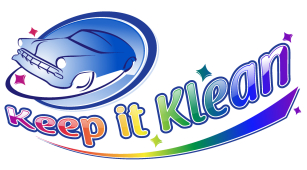 Auto . Boat . RV. Motorcycle Mobile Detailing Service


Cars • Trucks • Vans • RV's • • Suvs •Fleet Cars• Boats & Motorcycle
Odor Removal • Lavado de Carros • Dealer programs• Vinyl Lettering Removal
PO BOX 451785 Los Angeles C.A 90045
Tel # 310-412-CARS (2277)
E-Mail Information@keepitklean.com
Los Angeles Ca 90045
Phone Hours Monday through Saturday 6:30 AM to 4:00PM
Service Hours Monday though Saturday 7:30 AM to 4:00PM
90045